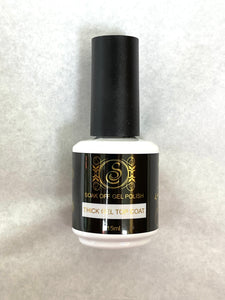 Thick Gel Top Coat
Regular price $0.00 $16.99 Sale
Our Thick Gel Top Coat is ultra shiny, stain proof, and provides a long lasting wear as well but has a thick consistency. It was create with a purpose! The thicker consistency fills in the file lines/ridges of your buffers and leaves a ultra smooth finish. It was created specifically for ACRYLIC NAILS but you CAN also use it over gel manicures if you desire an extra level of durability to your gel manicures.
Should you need any further information or questions, please do not hesitate to contact us at ohsnapbeautysupply@gmail.com. Please allow up to 48 hours for a reply. 

1-3 business days processing time. 3-5 business days for shipping. 14-17 business days for all international shipping.
WE DO NOT SHIP NAIL LIQUID INTERNATIONAL!!!

Disclaimer: We are not responsible for any damaged products, lost packages, or missing items that occurred during transit.

All sales are final. No returns or exchanges