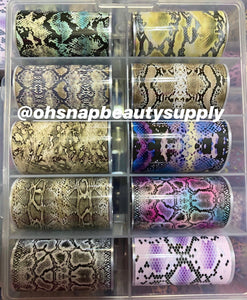 ORG. Snake Skin Transfer Foils
Regular price $18.99 Sale
Over any color powder or gel polish (make sure to clean off the tackiness first), apply a coat of our STICKY FOIL GEL @sugarandcream.
Cure for 30-90 seconds for LED and 2-3 minutes for UV.
Apply desire foils. Press down and rub firmly and make sure to cover all edges. Slowly peel up.
Optional: Apply a coat of SEALER GEL @sugarandcream (this helps it last for weeks) Cure.
Apply Gel Top Coat. Cure.
TIPS: Try matching the base color to the ideal foil design you want. Make sure your nail surface is not sticky if you're using gel polish before you apply the foil gel. The cure times varies depending on each machine hence we put a time range. If 60secs is not working then try 30secs. Some foils requires the glue to be more sticky; hence try less cure time.

COLORS: As all colors appear differently on different screens, different lighting, different swatches, and different skin tones and much more. We recommend all customers to look up swatches of colors and product reviews on @sugarandcream or @ohsnapbeautysupply. Customer takes full responsibility knowing what they are purchasing. We cannot accept returns or exchanges because you did not like the color/product
Should you need any further information or questions, please do not hesitate to contact us at ohsnapbeautysupply@gmail.com. Please allow up to 48 hours for a reply. 

1-3 business days processing time. 3-5 business days for shipping. 14-17 business days for all international shipping.
BUSINESS HOURS: MONDAY TO FRIDAY 10AM - 5PM
WE DO NOT SHIP NAIL LIQUID INTERNATIONAL!!!

Disclaimer: We are not responsible for any damaged products, lost packages, or missing items that occurred during transit.

All sales are final. No returns or exchanges