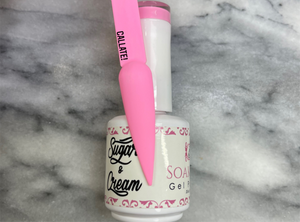 Callate!
Regular price $16.99 Sale
14ml
Sugar & Cream Gel Polish line is formulated with you in mind. The gel polishes are so highly pigmented and smooth that it can be use as a 1 coat application, and it can even be use as nail art. The consistency is easy to polish and well controlled, not runny.
It's a 3-Step system that's not only durable but easy to soak off with acetone or gel remover. It can be use over natural nails or artificial nails.
Cure Time:
60 secs LED or 3mins UV
COLORS: As all colors appear differently on different screens, different lighting, different swatches, and different skin tones and much more. We recommend all customers to look up swatches of colors and product reviews on @sugarandcream or @ohsnapbeautysupply. Customer takes full responsibility knowing what they are purchasing. We cannot accept returns or exchanges because you did not like the color/product
Disclaimer: We are not responsible for any damaged products, lost packages, or missing items that occurred during transit.

All sales are final. No returns or exchanges