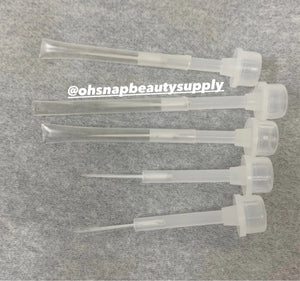 5 Brushes ( Liners )

NOTE: Please stand the bottle upright when they are not being use to avoid the brushes from bending. After using the gel liners, shake the bottle up lightly so the gel polish pulls downward and pull the brush straight. If you jammed the brush straight into the bottle without a gentle shake after, the brush might bend due to the thick viscosity of the gel polish. In the case that it does bend, just follow the direction and let it sit upright and the gel polish weight will pull the brush straight again over time. DO NOT USE ALCOHOL OR ACETONE TO TRY TO STRAIGHTEN IT OUT. It will melt the brush.

COLORS: As all colors appear differently on different screens, different lighting, different swatches, and different skin tones and much more. We recommend all customers to look up swatches of colors and product reviews on @sugarandcream or @ohsnapbeautysupply. Customer takes full responsibility knowing what they are purchasing. We cannot accept returns or exchanges because you did not like the color/product

Should you need any further information or questions, please do not hesitate to contact us at ohsnapbeautysupply@gmail.com. Please allow up to 48 hours for a reply. 

1-4 business days processing time. 3-5 business days for shipping. 14-17 business days for all international shipping.
WE DO NOT SHIP NAIL LIQUID INTERNATIONAL!!!

Disclaimer: We are not responsible for any damaged products, lost packages, or missing items that occurred during transit.

All sales are final. No returns or exchanges